I have learnt it the hard way.
It is a known fact as we grow older we form our opinions and set notions, making it difficult to accept new and cause remarkable changes to our learning pattern's.
Today, I am reminded of the time I took on Mosaics as a therapeutic art that would relieve me of my stress at work. I was happy that my then 10-year-old son took some keen interest in what I was doing and soon we decided to explore putting up our creations at a local Diwali fete.
To cut away from the dull, boring and drab corporate life that did not excite me, I always chose bright vibrant combinations of red, yellow and greens in my mosaic creations. I had a notion that Mosaics are all about their vibrancy and colours.
My son chose to pick on the browns black and gold.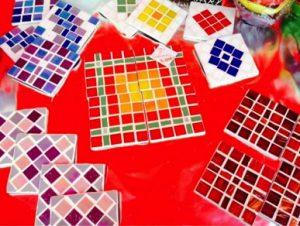 When he did so, immediate motherly instinct snubbed him for the choice of the unbecoming dark palette. To which his retort was 'it's my choice' :). I am glad I gave into that space for it was the set of
coasters he created, that were the first to fly of our shelf. Well appreciated by the buyer for its masculine tone that stood out amidst the cacophony of colours.
I experienced my child had his own creative expression. A realization that, I will NOT always be right… Alas! There is no right or wrong it's just a perspective.
Amidst all the confusion with my corporate career, I gave it all up and chose to become the Mosaic Artist. I researched, trained and self-taught myself all the nuances associated with mosaics. Must say, sharing my misgivings on social media, got me appreciation as I refined my expression. My work was respected for its uniqueness.
I got associated with a design school called the Truth School for Creative Excellence, where the owner/ administrator/ teacher/ designer, Deepti Pant asked me to create a mosaic experience for their students.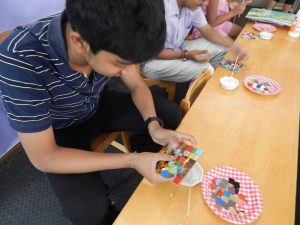 Overwhelmed at the thought of managing a classroom full of children of all age groups, offering them cut glass materials to explore and getting them to create art, I myself was a novice at… I summoned this event will help me overcome my barriers and it did, in ways more than one. I was told not to share anything beyond the technique and the children came up with their individual colour schemes, textures and patterns.
There was learning and beauty in every piece that was created by the 22 odd children.
It was ok to compliment with non-complimentary colours.
It was ok if exact and equal gaps were not given between each piece of material used.
It was okay to mosaic anything from glass to metal pieces, beads, any odd ends that made their piece unique.
The student artworks indeed had depth, dimension and stories of why 2 pieces put together made perfect sense. It all made sense, my chosen path would now be a fulfilling journey.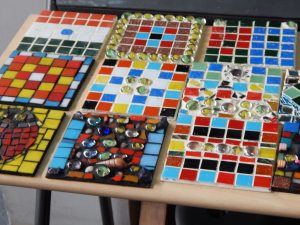 Soon enough I got another opportunity to conduct a workshop for Ashish Foundation, a school for differently abled children. I must thank Geeta Mondal the lady behind the establishment, for her trust in me.
The objective was to give the students exposure to an art, that could enable them with vocational training. It was a beautiful interaction, training Kathie Massey and her team of wonderful teachers, such that they could support me in-class sessions. We together helped the students create beautiful pebbled pots to use as planters for greens. The activity went beyond creativity for the students.
we encouraged counting, sorting, sequencing.
The activity helped build their attention span, concentration, spatial sense, fine motor skills, eye- hand coordination and so much more.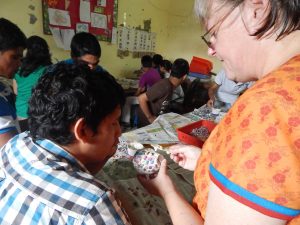 What I gained was a remarkable feeling of calm composure and so much respect for humanity watching the diligent teachers from humble backgrounds, supporting these children with utmost ease and so much love. The passion that drove them to educate the differently abled to be independent and create a vocation for themselves. It felt good.
Inspired today, I conduct workshops for all those creatively inclined. I have also developed a product line called Mini Mason Mosaickits. These are Do-it-yourself kits that are great starter packs to understand the process of mosaic art .
I have realized, I may be mile stones away from being a master artist but I have identified a talent that I can share … and it is in its giving, that I have received the best lessons to self-mastery!
Becoming of better person, a better artist, a better professional 🙂